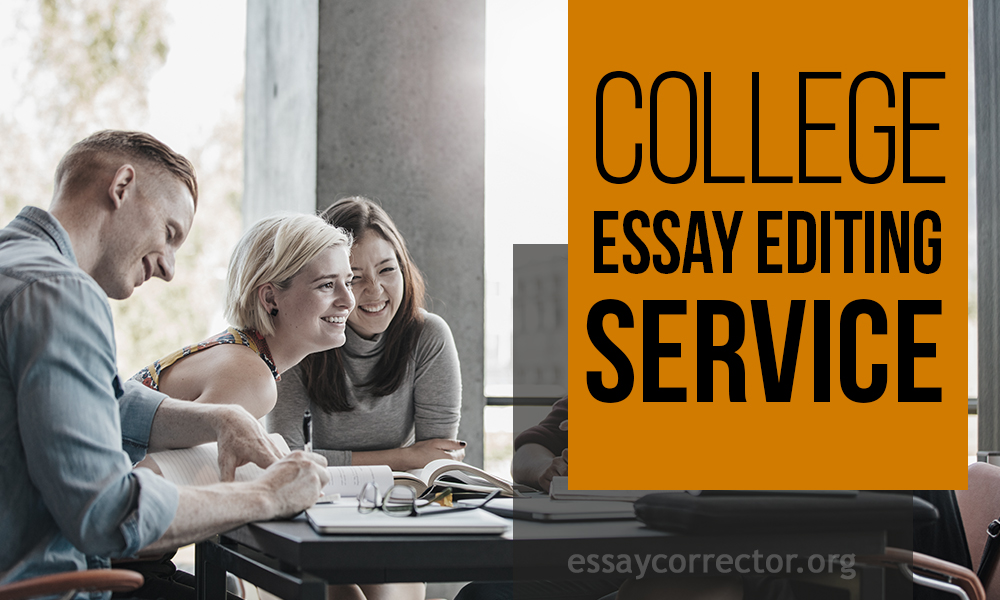 Draw not your bow till your arrow is fixed and double check to be sure. These two sayings may be fairly called the general motto of every professional copy editor and a key to success for every college student, who has been ever assigned with the task to write an essay. Indeed, although it may sound a little surprising for you, but writing an essay or paper is only a half of the trouble. So, when you finally finished writing your assignment and tiredly put that quill aside, it's too early to relax, because your job is still far from over. Editing essay is the mandatory stage of working on such college assignments. Really and truly, your essay may be perfectly written, but even the smallest grammar and spelling mistakes, misprints and logical inconsistences may completely ruin someone else's impression of you and you work. And you won't argue that none of us wants his or her writing to be rejected already at the earliest stage, will you?
Most of those, who were first assigned with essay task, often believe that they are able to write their paper flawlessly at the very first go-off, that their English is perfect and that the unfortunate mistakes that have ruined the fate of many academic papers are made by someone else, but not by them. However, the practice shows that the mistakes are made by everyone. And no, it doesn't mean that a person, who has made several grammar mistakes in his or her paper doesn't know English, or that the few logical inconsistencies and disrupted logical relations within one paragraph may depreciate all the research conducted and ideas expressed. Often, a person working on an essay is rather focused on the meaning and the key idea running like a golden thread through the whole paper than on minor purely technical aspects. Although, probably, you'll never manage to explain this simple principle to your college instructor, won't you?
Well, George Bernard Shaw once said "Success does not consist in never making mistakes but in never making the same one a second time". Therefore, although none is able to avoid minor mistakes in his or her first essay, but you may not fall into the same trap and trust the essay editing to professionals by using our best essay editing service.    
Online Essay Editing. What do we do? 
Well, now let's look into how we are editing essays provided by our customers. The essay editing usually takes three stages:  
At the first stage of your essay editing, we proofread it and polish it out of the grammar, spelling and punctuation errors. We check it for misprints, revise the proper usage of commas and quotation marks, fix the grammar mistakes, et cetera. The proofreading stage ensures that the essay under editing will be written to the highest standards of English. Here, we also check if the text is correctly split up on sentences and paragraph, and whether the capital letters are properly placed. We also purge the text of 'clumsily' composed sentences, neologisms and misnomers. Why do we do it? Well, you must admit that the clear and logically consistent test written in the perfect English language demonstrates the serious intentions of author.
The second stage is verification of all the scientific data used, including the names, dates and events mentioned in the text. We also verify the reliability of sources utilized in course of research. Minor misprints happen, and it would be quite embarrassing, if you accidently confuse Thomas Jefferson and Thomas Edison, wouldn't it? Well, the task of our professionals here is to identify all inconsistencies and to fix them in compliance with given requirements.
As for the last third stage, that's what we call the Stage of Knives and Scissors. Why so? It's simple. We cut the text off any irrelevant and unnecessary parts. Our editors frequently see the cases, where in attempts to express their thoughts as much comprehensive as possible, many authors 'wander away' into fields irrelevant for the given essay topic. So, our task here is to restore the normal structure and readability of the text. 
Online Essay Editing. Don't Take It on Trust Alone
Today, when online essay editing is growing popular among Internet users, many people willing to trust the academic success of their assignments to the professionals are facing a vital question: which service provider to choose? Some are looking for essay editors and proofreaders on freelance websites, but dealing with freelancers is associated with certain degree of risk, as long as even the best feedbacks left at the freelancer's profile do not guaranty the high quality of service. Besides that, academic editors operate with highly sensible information, such as paper content and author's personal data, so taking it on the pure trust may result in plagiarism and confidentiality issues at the very least. Another important aspect is price of the services: every freelancer has his or her own rates that are usually subject to severe fluctuations based on the freelance market condition. These are the reasons why most students prefer to use the reliable services rendered by online editing company with many years of experience on the market.   
Our online editing service has become a helper-outer for many college students. We employ only English native speakers with flawless academic background able and willing to make your essay a real work of art. We also do realize how sensitive information we deal with, so we dependably protect our personal databases and guaranty the complete anonymity and confidentiality to our customers. As for financial matters, we offer the flexible pricing policy and discount programs for both our new and regular customers. So, if you feel like you may use a little magic trick to ensure the success of your academic assignment, feel free to contact our support team and order the best essay editing service ever seen online!