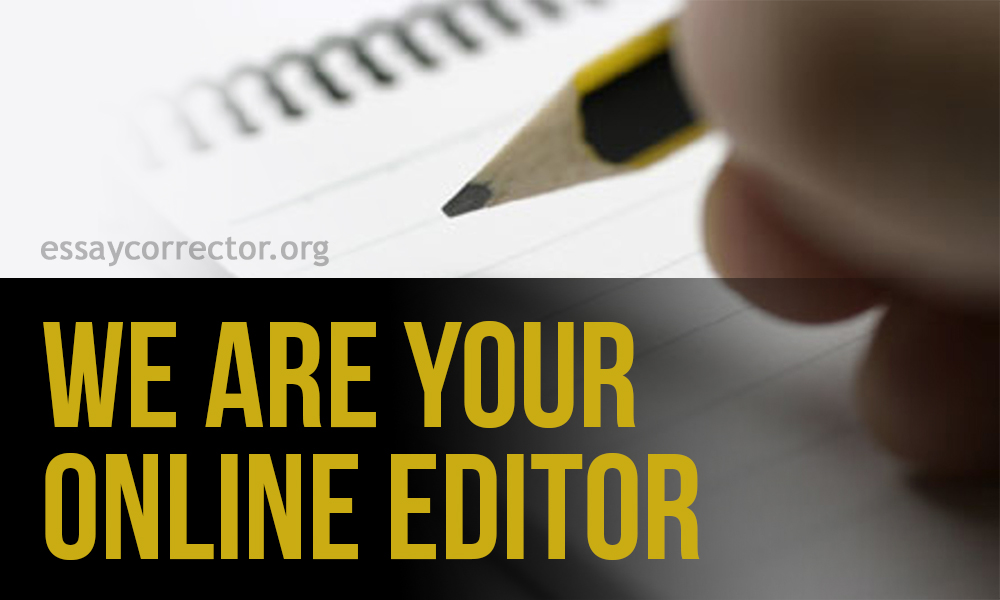 Hello and welcome to our blog! Here you will find interesting information about our news, events and services we offer, some useful tips and tricks, free samples and recommendations on paper editing, but to start with, let us get to know each other!
Let's start with you. Correct me, if I am wrong, but if you are reading this, you've probably already faced an eternal problem of almost every student, graduate or any person whatsoever, who has been ever assigned with the task to write an essay, paper, thesis or article. I bet you already know what we are talking about - this creepy seven-letter word that has been stalking you all the way of writing that paper. It crawled at the very edge of your consciousness, when you only thought about your topic. It started to bother you, when you only wrote the first paragraph. You tried not to think about it, you tried to force it onto the back burner, you even probably said to yourself: "Ok, it's not such a big deal, I'll think about it, when I finish the writing", but now, when your paper is almost over, it has grown into a real problem. Editing. E-D-I-T-I-N-G. The root of evil for all the students. Yes, your paper may be carefully considered and thoroughly thought over, it may contain the interesting, creative or maybe even innovative point of view, flawless arguments and faultless conclusion, but the single smallest mistake may overscore all the hours, days or even weeks that you've spent on writing. Now you are probably really concerned, especially if you aren't the certified editing professional or English native speaker at all. Well, that's must be the best time for us to introduce ourselves.
Meet Your Personal Online Copy Editor
Let us introduce ourselves: we are your personal online paper editor and we are glad to inform you that your what-should-I-do-with-my-paper-editing ordeals are finally over! Are you surprised? You've never thought that you can find the perfectly qualified professional essay editor online? Does our website seem like revelation to you? No wonder. Finding the professional online essay editor with perfect academic background is probably even more complicated task than finding the good essay writing service. Moreover, writing a fine paper or essay is only half the trouble, the much bigger challenge is to have a fresh look at the newly written paper, proofread the grammar mistakes, verify the satisfaction of requirements against the checklist, et cetera. You may be too tired to have an adequate view at your work and it is too much responsible task to ask one of your friends to do it. So when the fate of your diligently written paper is at the stake, the best solution here is to trust the professionals.
What Do We Offer?
Our online paper editing service operates with all kinds of papers, including college essays, dissertations and articles in the English language and offers our customers a wide range of editing-related services:
editing;
proofreading;
rewriting.
Now let's consider it in more detail.
Editing
Besides finding and fixing punctuation and spelling mistakes, the editing service offered by our website includes checking each sentence for being complete, understandable, grammatically correct and consistent. We also verify the structure of your paper against the checklist of requirements making sure that the paper:
contains properly composed introduction paragraph with thesis statement and topic sentences;
presents understandable, logical and consistent arguments in support of the thesis statement made;
does not include any irrelevant parts;
is well-organized and its topic is properly developed;
includes only the references taken from suitable sources.
The editing services also include formatting your paper in compliance with given standardized requirements, such as MLA, APA, etc.  
Proofreading
Although the proofreading services are most often required by foreign students and non-native English speakers, the high-quality paper proofreading is necessary for everyone, who doesn't want his or her paper grade to be negatively affected due to the minor grammar or spelling mistakes/misprints sneak out of the tired sight. All the proofreading services are provided by English native-speakers with long years of professional experience, so using our proofreading services means that your paper will be written to the highest standards of modern English, while you will receive the comments regarding the spots in your essay that live the room for improvement.
Rewriting
Plagiarism is another problem the academic papers may suffer from. You may have already faced the situation, where after your paper is finally finished, you find out that it requires some major modifications due to the plagiarism issues. What is even worse is that you may have completely no idea about how to get rid of plagiarism parts without affecting the whole structure and content of your paper. To handle with it, we offer high quality essay and academic papers rewording services, where you receive 100% plagiarism free original unique paper written in natural language at the output. Our professional team will conduct comprehensive research on your topic using only credible and reliable sources followed by in-depth rewording and enhanced check for coincidence with other published writings in order to eliminate every single trace of possible plagiarism.   
Penny Saved is a Penny Got. Flexible Pricing Policy
While reading this, you could have thought that the services listed above rendered by professional team with flawless academic background may cost you a handsome amount of money, couldn't you? Well, you are wrong again. Our website offers the flexible pricing policy adjustable depending on deadline, number of sources used, et cetera. Moreover, we also offer various loyalty programs, special discounts and free services to our regular customers.
So, if you are another suffering soul wandering in the cruel world of academic paper assignments, don't be shy to grab a helping hand of our professional online editors. I'm sure we're going to get along. If you have any questions left, please be welcome to contact our support team to receive more detailed information on our prices and services.