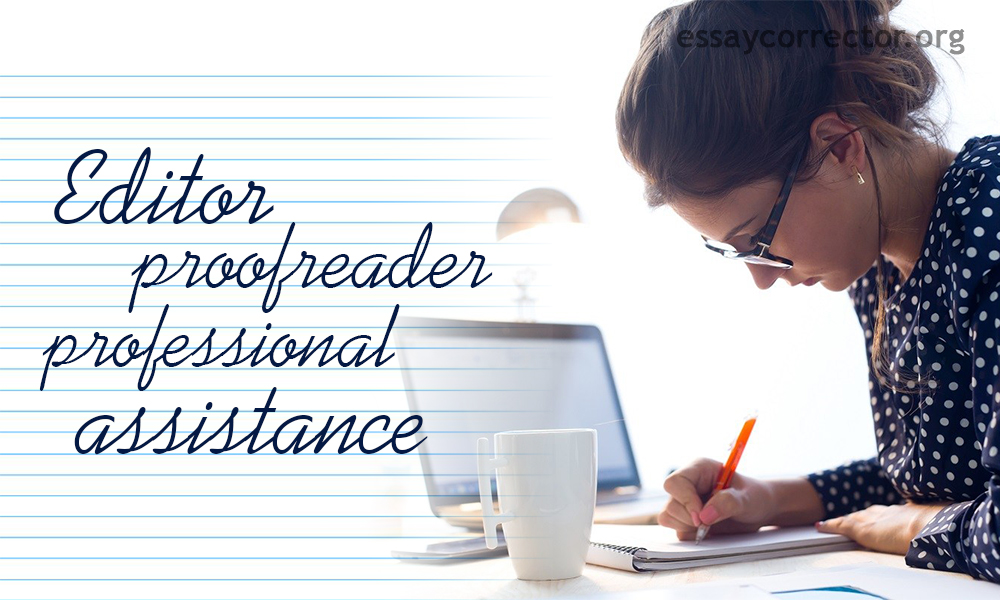 Any written text should be grammatically correct. Presence of mistakes in even a very good text can completely spoil it. At the same time reputation of its writer will be damaged as well. Others will think that the author does not care about text rereading and checking for mistakes. However, sometimes even after several readings, a writer just can not notice a banal typos. Your own text often seems perfect and errors free.
That is why people, who need to write any kind of paper, especially if they have to deal with large amount of text, often apply for professional assistance of editors (as well as proofreaders), who will revise the text and correct the mistakes. Proofreading or editing, and also other types of services are provided by qualified experts on our Essay Corrector website. Any time you can get acquainted with our services and prices and order the service that will suit your paper best. If you can not define what exactly your text requires, i.e. editing, proofreading, rewriting or revision, contact our team via live chat and we will gladly give you a consultation on your issue.
Work of an editor proofreader
Now let's try to figure out what exactly proofreaders and editors do and what the features and peculiarities of their job are. The first and probably the main characteristic of proofreader's services is that he / she does not write a text by him- /herself. Proofreader, as well as editor, receives ready written text and the task is to reread it, revise and correct the errors.
Errors correction can be carried out in several ways. The most common are these two:
1) Proofreader revises a text and corrects it at once making it look perfect.
2) Editor reads carefully a text, highlights the mistakes and sends it back for revision and correction.
Here any person is free to choose what suits him better. Also, each customer can determine his / her own conditions and requirements. Someone prefers to get already proofread and edited paper (http://essaycorrector.org/blog/useful-tips-how-to-edit-your-essay-step-by-step). Others prefer to see their mistakes and correct them on their own in their own way, manner and style. In general, a lot of people try to check and correct their papers by themselves, however, as practice shows, professional help is always required if you want to get really good results.
The size of work and its difficulty level directly depends on whom editors and proofreaders work with. For example, students usually ask to proofread articles, essays, compositions and so on. These types of academic written works have their own special structure, size and other requirements. Proofreading and editing of thesis for obtaining, for example, PhD degree is completely other level of difficulty and other scope of work. If proofreaders deal with experienced and literate authors, then they have not so much work to do. There can be just some typos and a little bit incorrectly used word, phrase or sentence. If they get an order from beginners, then it may even turn out that text requires complete rewriting.
Additionally, in this section you can read:
What kind of people does proofreading and editing services provide?
Not each person can work as a proofreader or an editor. Here are some main requirements for people who are occupied with such activity.
1. Literacy (knowledge of linguistic norms and rules). This is the most obvious point. How can a person check someone else's paper for mistakes if he does not know the rules of language?
2. Education. There is an opinion that degree is not that much important, especially in case when of online services, i.e. services are provided online. However, what concerns this very job, in particular, academic paper editing and proofreading, it is obligatory to have the appropriate education. It is perfect when proofreaders and editors have qualification of philologist or have pedagogical education. On our part, we can assure you that employees of our online academic editing company are holders of Master's and PhD degrees.
3. Perseverance and patience. Of course, it is really hard to revise and correct paper full of mistakes. That is why proofreaders and editors should have much patience and attention to read the whole text from the very beginning to the end, correct it and start working on the next one. And it is better when they are able to treat their work with a bit of humor.
4. Ability to express and present the thoughts clearly. Proofreaders and editors should be able to explain what an error is and prove it with appropriate rules, so that another person could understand and remember it for future.
Pitfalls of proofreader editor profession
As any other profession proofreader's work had its disadvantages. Each person should realize that proofreaders work really hard. Especially when their task is to proofread and edit a text of an absolutely inexperienced writer and when a text looks like a set of separate meaningless sentences. The task is to change the text in such a way that it will look competently written, original and its main idea will be saved at the same time (http://essaycorrector.org/blog/top-10-ideas-how-to-elude-plagiarism-in-your-essay). Now you can imagine how much difficult it can be. However, specialists of our website are experienced experts, among whom there are professional editors and proofreaders. They are able and ready to work with the papers of any level of difficulty. Our expert team works work in good favorable conditions, that is why we provide services of high quality.
Talking about payment and prices
Proofreading and editing services offered by our specialists are affordable absolutely for everyone. Though services of such kind are considered to be "easy work" and consequently they are not highly paid, we do not demand incredible amounts of money. We perfectly realize that most of our customers are students, thus we do everything possible to make our interaction and cooperation as pleasant for them as possible.
Professional team
Our customers work with professional and qualified specialists only. We guarantee that each client will get personal approach and each order will be carried out by an expert, whether it is reviser, editor, proofreader or rewriter, according to what service is required for a paper. A client always makes comments on his paper, specifies what exactly should be done with a text, expresses his minds and wishes on paper correction. Our specialists will bring to life what customer wants and asks for. Of course, everything will be done taking into consideration correct grammar, spelling, punctuation, stylistics and so on.
So as you can see proofreader editor work is extremely hard, but our experts do their best for you. Our editing and proofreading service wishes you good luck and errors free texts.
Read also popular posts: