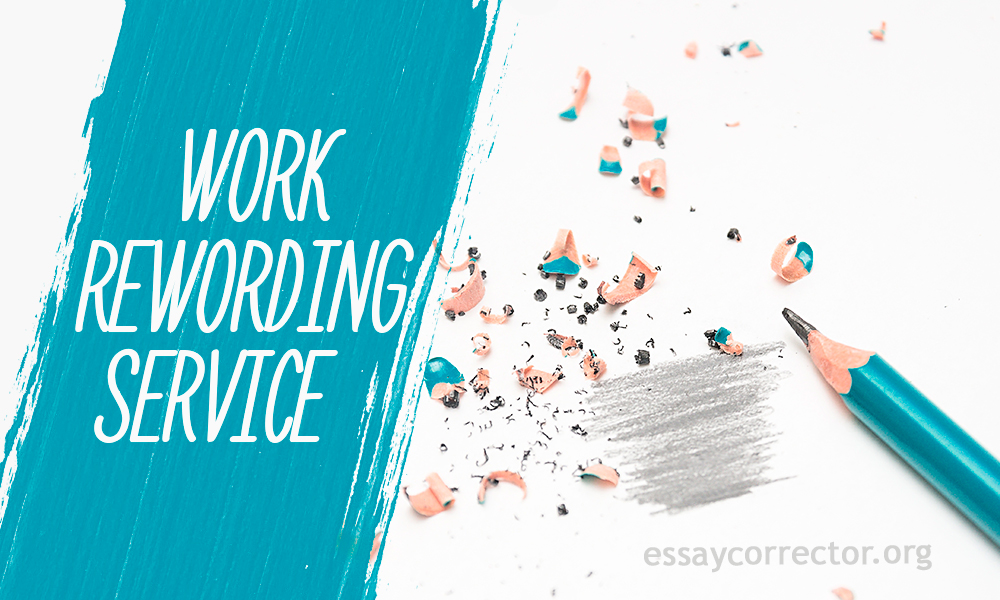 Reword my work, I know I can trust you!
Issue of trust is very urgent today. It is not easy to find someone or something reliable. A lot of things are depreciated. Sometimes, people even do not realize how much important some values are, such as trust, for example. Professional editors, revisers, proofreaders, other workers of our site prove it day to day that they are worth being trusted. They provide reliable online essay editing, thesis proof reading, term papers revision, documents formatting along with other various services in academic writing sphere. Visiting our site, first, our clients get opportunity to get any necessary information about our online company with its expert team. There are different sections, which present main directions of our activity. Even if it happens that something is still not very clear, let us know about this by contacting us via live chat. Live chat, by the way, is available any day at any time. Now let us continue sharing helpful tips on improvement or development of writing skills.
Ways to create "killing" introductory paragraph
Have we ever thought why many people do not read our texts (posts, articles, etc.) till the end? The point is about the first paragraph. These several sentences can make reader interested or, on the contrary, make reader close the page. What is the secret of the first paragraph? How to begin texts successfully? What should not be done? All this and other information is in our post.
Why the first paragraph is often excess
Professional editors often advise to "throw out" the first paragraph of any text (other tips are here: http://essaycorrector.org/blog/new-opportunities-editing-essays-online-free-for-you). In most cases, this is a fair demand. Chasing logic, authors often make their papers look like essays written in junior school (tips on essay editing will help to improve text quality greatly). As a result, introductory paragraph does not fulfill its function: it does not capture the audience. Vise versa, the beginning of material becomes not interesting, heavy, repulsive. It happens when author uses such inappropriate techniques as:
Text begins with explanation of author's intentions. We all have probably seen such examples: "Aim of this article is to tell about…" / "This review is about…" / "I have faced… and decided to discuss it in my new post".
Suchlike constructions are not completely forbidden. They can be used in the end of introductory paragraph, when audience is already interested. However, they should not be used as beginning sentences.
Definition set in the beginning. It makes material look not just like a school essay, but as a "keywords stuffed" text from the epoch of "wild SEO". Compare these two examples: a) Person that does not belong to classic literature writers is…; b) Promotion of sites by positions is a service that allows to bring site to top with guarantee.
Old school SEO writers demanded from their authors to begin texts with definitions because often it guaranteed that main keys were written in the first paragraph or even the first sentence. Today we have other tendency in promotion context. For "live readers" such an approach has never been suitable. Top schools producing millionaire can help not to become one of those old school authors.
Coming from afar. In conditions of information noise, wild rhythm of life authors lack time to warm up their audience. Readers want to get necessary information immediately. If an introductory paragraph does not prove that text contains required data, the reader stops reading it.
Demonstration of uncertainty. If the reader has doubts about author's expertise, he (she) will no longer read the material. Avoid following introductions:
- It seems to me…
- I am not absolutely sure…
- I apologize…
Usually, such words, in the beginning, are not appropriate.
Methods to "hook" the audience
1. Set a question. It should make readers think over something. If it has happened, it is almost for sure that a reader will read written material till the end. Besides, with the help of questions, we can form expectations and control needs of audience.
2. Shock, surprise, intrigue audience. This can be done by means of facts, provocative comparisons, unusual analogy, etc.
3. Play on the contradictions contrast two opposite phenomena.
4. Begin with a quotation or a proverb. Words of famous people or folk wisdom always attract attention. For example, an article about a modern famous writer is started with a quote, which demonstrates at once non-standard thinking of the writer. Our papers proofreading service will help to do it correctly.
5. Tell a story. Remember, now we are talking about introductory paragraph. That is why a story should not exceed several sentences.
6. Begin with a unique offer. This approach works when we tell about a product, which really differs from other similar offers of the competitors.
7. Be fun, make a joke, play with words. This is a great method to make audience interested.
Additionally, more posts in Services section:
Proofreading Documents: Make It Easy With Expert Help
Academic Editor Service: Get Personal Professional Assistant
Grammar Proofreader Makes Text Free Of Errors
Academic Papers Editing Service Solves Any Problem
Proofread Online Your Papers: Low Prices, High Quality
What does prevent from catching the audience?
1. Absence of pictures. Photos, pictures, comics, infographic – any graphical elements enliven the text, making it easier for perception. Visual information (images) human brain perceives sixty times faster than text. It means, first of all, that illustrations should be necessarily used in all materials.
2. Grey dull titles. Each of us reads headlines and titles, basing on which we decide whether we want to read the text itself or not. Under such conditions, we should have serious approach to something that defines destiny of our text, i.e. to a title.
3. Text without "lead". "Lead" is the first maximally informative paragraph of material, in which subject is defined; its function is to capture reader's attention. Especially, in the internet environment, where it is not accepted to waste time on material reading if it is not clear at once what the material is about, lead is a rule of good tone: it is simultaneous expression of respect to readers and a way to attract attention.
4. Absence of a clear line. It is necessary to write in such a way that after reading it becomes possible to retell the main idea with just one single phrase.
5. Writing without a plan. Without a plan on paper or in mind, no one can write well-structured material. An article needs to maintain everything: text complication, in which problem is defined, it's solving with argumentative evidence base, finally, denouement with clear conclusions.
6. Quantity is more important than quality. This is not like this at all. No one is interested in texts, from which we cannot learn anything new, which do not help to solve particular problem, repeat something said by others by thousands of times. Those, who provide quality, manage to attract readers and customers.
7. Many texts of medium quality, but no superior material. There are two ways: people can create many texts of medium quality or they can work on the creation of a big (in all meanings – from the point of view of form and of content) material. The first way is creation of good. The second one is the creation of the best. Today many people follow the first way. However, if we strive for something worthy, we should give much time and powers to the creation of something unique or even the best in our life.
8. Measure success only by grades. Many people make a mistake believing that grades define general quality of text. It is only partially true. Grades may be not very high because of present errors, meanwhile, quality of content is really good. To reach perfect combination of good content and absence of errors it is better to apply for help of professional revisers or editors (http://essaycorrector.org/blog/revise-essay-free-no-typos-unnoticed).
9. Verbal participial phrases. For some authors this is a real trouble. Each language tends to simplicity. That is why simple verbs are used more often. That is why errors in participial phrases are often made nowadays.
10. Abundance of epithets. If an author needs several epithets at once to describe an object, it means that none of them suits well. One "deadly precise epithet" is what required to finish a sentence without worries or doubts.
11. "Pouring water" or much excess information. It does not matter how much big a text is. It matters how much informative it is. A good text can be of any size, either one thousand or ten thousands words. What is essential is that it should not maintain prolonged introductions, lyrics, deviations, which do not serve for the main idea of a text. Audience wants information and specifics.
12. Absence of a verb in a title. One of the major rules of news journalism is a verb in a title. It can be applied to any written work. Headline should reflect three things: 1) who, 2) where, 3) what does. In general, exact verbs breathe life into text.
13. Tautology. Among all types of language redundancy, this one is the most harmful, since it does not have any excuse from the point of view of logic or emotional side of a text. For example, "memorable souvenir" – souvenir is a remembrance itself; souvenir translated from French means "memory, recollection".
14. Words-parasites. Good text should not contain any excess word. Naturally, it should not maintain parasitic words. If it is possible not to use them (sometimes this is just impossible), do it. Text will only benefit from it.
15. To write is easy. For major part of good authors, it is difficult to write. It is easy to write middling texts in big amounts. Good ones require time and efforts.
Online assistance from professionals: quickly and easily
Everything presented above is aimed at improvement of writing skills. These tips are really useful if implement them on practice. They are already tested by our experts and clients for many times, so we can confidently claim that they are working. Professionals of our online company continue to conduct research in this field in order to help our clients with any request they may have. Naturally, we continue providing and improving services in college papers field. Our experts ensure professional help with written works editing, thesis papers revision, proof reading, correction, rewriting. Also, creation, fixing and formatting of front / title page, references list, bibliography, and so on can be ordered here. Just keep it in mind: asking for professional help is easy, fast and very popular today. We are ready to gain your trust and become friends!
Other popular posts in our blog:
College Essay Editor: Your Short Way To Success
Thesis Proofreading Service: Quality Approved
Professional Paper Editing Service: Happy Life Ticket
Is It Worth Using Papers Editing Website?