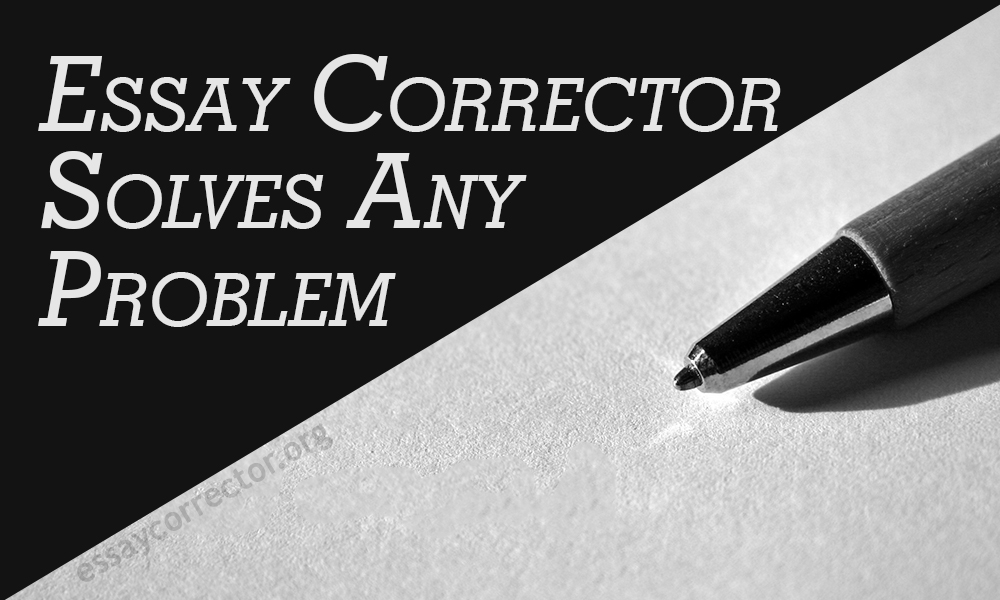 Academic paper editing is easier than it might seem
For some students it seems that getting of high grade for their written works belongs to "mission impossible" category. However, using our assistance and expert services, mission turns into absolutely possible and easily achievable. The Internet is full of many editing companies online, but not each on them can boast of professionalism. Meanwhile, we can. These are not just empty words. Services on academic texts creation, revision, edition, rewriting and many others can be ordered on our site and they are performed by skilled qualified experts. Do not let doubts become an obstacle on way to success. Give us a chance to prove our skillfulness. In the mean time, we suggest to get acquainted with additional tips on how written work quality can be improved by avoiding some simple errors.
General recommendations
Creation of any academic written work is among tasks of extremely high difficulty level in educational process. Written works implies thoughts sorting and regulation, putting them in a proper order dictated by chosen topic and analysis material (about word order importance read here: http://essaycorrector.org/blog/why-word-order-is-so-important-in-english). It is better to start working with small easy things (what else can be easy? what about book proof reading? helpful book proofreading tips are published here). Having coped with them, one feels more inspiration and encouragement for further actions. Also, working with simple things, one masters, polishes skills of text creation and processing. Pay special attention! Before presenting written paper to others and getting grade for it, it would be more preferable to show it to specialists first.
Remember that any written paper should have well-thought structure. Take into consideration some recommendations that we present further:
Introductory (beginning) paragraph: to make it successful, one needs to formulate in it those problematic questions, which theoretically can be answered within frames of work topic, and having selected one or two among them, which will be answered in a work, reason this choice. Also, give terms, which will be used answering selected questions, and give their definitions. Thus, text author shows knowledge of chosen subject. Do not be afraid of question marks, courageously formulate interrogative sentences.
Main part: its major content is detailed and evidence-based answer to those questions, which are formulated in introductory paragraph. Text author's task is to convince a reader that set questions are correctly selected and correctly solved. This part has the biggest size.
Final part: here we have summary within reasoning of the second part on problematic questions, which are formulated in introductory part. One needs to generalize conclusions, using key words or terms used in wording of a chosen topic. Remember that introductory and final part has a lot in common. They only change their form, turning from interrogative to affirmative.
Also, keep in mind that not all points have to be strictly preserved. It all depends on nature of written paper. Choice of points is completely dependent on paper author, on ability to choose essential elements, without which analysis cannot be full. It also depends on attention and level of preparation.
Find more useful information in Services section:
College Essay Editor: Your Short Way To Success
Thesis Proofreading Service: Quality Approved
Get Cheap English Editing And Proofreading Services Here
Professional Paper Editing Service: Happy Life Ticket
Is It Worth Using Papers Editing Website?
Mistakes in text creation
Let us discuss mistakes of text creation, which can influence negatively final result.
1. Complex phrases. They make others tired. So, it would be better to write simply, as if text creator talks to someone, who reads this text in a calm friendly atmosphere. In other words, there should not be instructions. A text should created in such a way that its author also likes to read it. The fact that this text belongs to college paper types does not necessarily mean that it definitely will be dull or boring.
2. Big number of errors. Errors, typos, misprints – one can hardly be protected from all this by 100%. However, if a text is "stuffed" with elements of illiteracy, then it will not manage to cause desire to read it or to evaluate it highly. What will a reader probably do? He or she will just close this text and try to forget it.
3. Big paragraphs. There is another scourge of many pages. No one reads big paragraphs. Remember this simple rule once and for good. A couple of lines is absolutely enough to form a paragraph. The more paragraphs and gaps in a text one makes, the easier it becomes to read. Also, it provokes bigger desire to read it.
4. Absence of bullet lists, underlining, bold. It is almost impossible to read a solid continuous text. However, when it is divided into short paragraphs, when there is underlining, use of bold, lists (first…, second.., third…, etc.), it is quite another matter, or it is better to say "another pair of shoes". At the same time, do not "go deep into game", because everything should be within limits.
5. Too much use of colours and bold. Specialists say that women tend to do this more than men, using many different colours in their texts or using too much bold. Can anyone enjoy reading such a text? Probably not, one will just get tired of it. It is almost impossible to stay focused on such motley text. We recommend to use only two colours for a text: black and red (three colours are maximum). Only the most essential elements should be highlighted, i.e. be in bold. This is no more than 5% of text size. To attract attention to any part of a text, it is better to use yellow colour (we mean electronic form of written paper).
6. Absence of pictures / images. Pictures are usually required, because it is hard to read any text without them. When they are present, it becomes easier and more pleasant to look at it and read it. However, we emphasize that images obligatory must be of good high quality. There should not be "terrifying self-made pictures". Everything should be harmonious and nice. It concerns everything: beginning from title or front page, main part, images, ending with references, tables and so on. All this can be learnt in any good university (list of the most popular universities is attached).
7. Text should maintain fundamental elements such as "offer, deadline, motivation to action" (all this is in a figurative sense, of course). This is one of the most essential points. It means that one needs to make a "delicious offer", to persuade us that a text is worth being read, also, it should motivate us to read it right now. An "offer" needs to be clearly formulated and easily seen when one looks at a text for the first time. "Offer" can be even repeated for several times. Remember that key words are important in any written paper. Let papers proofreading company help and become magic helper that leads to success.
Naturally, we have discussed not all errors, which can be made. However, avoiding above mentioned ones, one can increase text value greatly and make it much more effective. If one wants to increase quality, value and efficiency of a text, to get only high grades for created text, and have a rest, relax or be involved in personal businesses at the same time (http://essaycorrector.org/blog/academic-proofreading-online-saves-your-time), then our site is a real helper. Our highly professional team will assist in any issue connected with academic works. We are reliable and responsible service to use. Our help at special cost with amazing bonuses, additional fringe benefits and guarantees is what makes people collaborate with us and become our regular customer. Join us and make it sure that we deserve to be trusted!
More popular posts in this section:
Rewrite My Paper: Help Me Be Literate!
Papers Editing Services: Direct Way To High Quality
Proof Reading Services UK: Better Than The Best
Rewrite My Paper: Your Appeal Is Heard