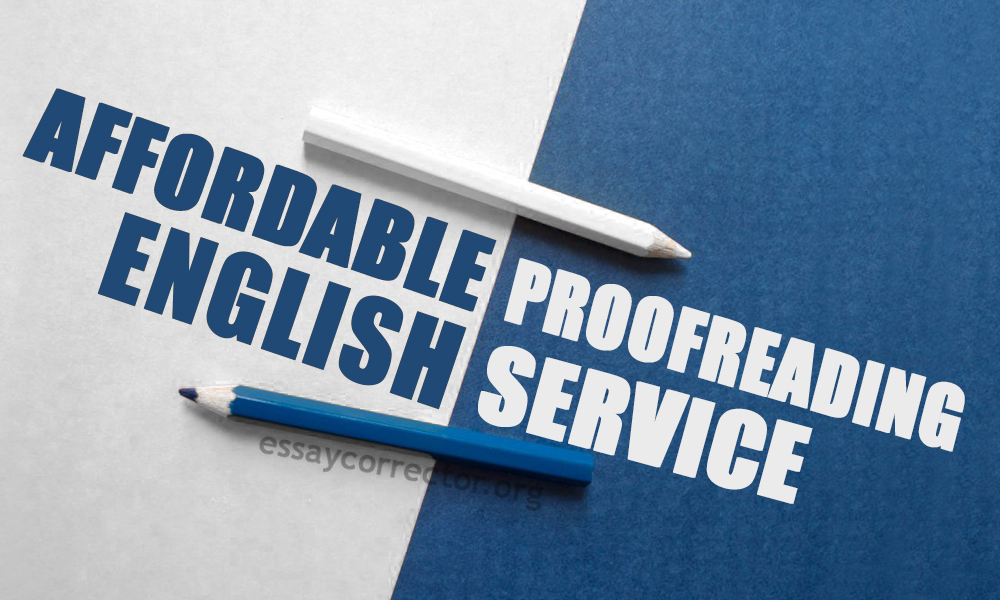 How to write English academic papers correctly
It is important to know the basic rules of academic paper creation. A lot of tests and examinations include paper writing, usually essay, in their program. For example, essay writing is included in the program of such famous international tests of English proficiency as TOEFL and CPE. In general, even if you do not need to prove your knowledge of English, you have to be aware of how academic papers should be correctly built. Our online English proofreader Essay Corrector is going to give you an expert assistance and advice on this issue. Our specialists know what and how to write. So whatever kind of help connected with English written works you may need, contact our supportive team any time of day and night and we will do our best for you. But for now read and use our recommendations given below.
The skills of academic paper creation imply quite high level of language knowledge. Of course, not everyone is proficient in this "art". So we are going to give you several useful tips on English academic paper building that will serve you well in life (http://essaycorrector.org/blog/proofread-essay-service-guarantees-success-of-your-paper).
Preparation phase
It can be hard, but try to begin in advance. The earlier you start to think over a subject of your paper, the more time you will have to look for and collect materials. When your brain is aimed at consideration of any subject, it begins to notice necessary information more often.
The same happens when, for example, you try to remember a new word: it seems that you meet it more frequently in the texts. The point is that you become more susceptible to a certain type of information paying more attention to it.
For the very beginning it is better to make sketches of what you already know about the paper subject. It may turn out that a person knows even more than he thinks he knows. It will bring new ideas and help to orient in what direction to move further. To act purposefully you need to build a plan and formulate a preliminary set of questions. When you start to study collected materials, there will raise new more specific questions, and you will look for the answers to them.
How to overcome "the fear of a blank slate"
Even the most experienced writer starting to create a new work sometimes feels indecision, hesitation and fear. However, here the most important thing is not a desire or skillfulness. The most important and difficult is to begin. It does not matter what you will begin with. Just start and do not stop writing and for now do not care about the spelling and stylistics errors. Make drafts of your thoughts and only after that proceed with structuring your future masterpiece.
If you write using computer (now people usually create any written work in such a way), then it will not be a problem to swap the fragments of a text and set them in order you need. If you prefer paper and pen, then you may leave some space between your written ideas, so that you could add something later. You may even take scissors and cut your sheet of paper into strips to make the process easier. However, if you look for modern and highly professional essay editing and proofreading service, we strongly recommend you not to waste time and ask for help of specialists who work at Essay Corrector.
Try to compose your paper in the order of the main idea development. If as a result you get "golden trio": beginning (introductory part), middle fragment (main part) and ending (conclusion), it means you have done everything correctly.
Read other useful posts in this section:
Online Proofreading Service Is Your Professional Choice
PhD Thesis Proofreading Makes Your Paper Original
Order Paper Proofreading And Editing Here!
Essay Corrector Will Proofread Essay And Make It Original
Best Edit Revise Services Provided By Essay Corrector
Academic written works: general structure
Introductory part. It should contain kind of a comment to the paper subject. Probably, it can be definitions of key concepts or an explanation of how you understand the subject. Also in this part you need to explain what aspects of the subject you are going to present and why.
Remember that any academic paper is not a novel, so you need to select several major arguments that reveal he subject. Beginning should give a clear idea of what it will be discussed further. Also your reader should see that you give an answer to a certain set of presented questions.
So, good introduction should:
demonstrate your intention to answer the set question;
show that you understand the subject;
demonstrate the structure of your answer and key aspects that you are going to present (i.e. your plan);
prove that you have conducted a kind of research and refer to one of your sources;
completely correspond to the topic;
be laconic and take about eight to nine percent of the total text size (for example, 120 words in a 1500 word paper);
Begin your paper with a key phrase that will define the direction of the text. There are a lot of clichés that are widely used and commonly accepted. You may use them in your work, but do not overdo. Too many clichés are a widespread mistake that many people make. Try to be as much definite as possible, do not make your reader feel hesitation.
Main part. This element of your paper should reveal each of the arguments using examples and illustrations. Information should be strictly logically divided. For this purpose a text is divided into paragraphs. You need to think carefully over the paper structure and make it sure that main part logically leads to conclusion.
Conclusion. Naturally, it should summarize the expressed thoughts. It is necessary to give answer to the question introduced in the paper topic. Or depending on the type of paper, you need to point at the perspectives or consequences of the subject consideration.
Also in this part you can formulate related topics that deserve further studying and express your own ideas, if they are supported by the arguments you give previously.
Good conclusion is:
not only summarizing, but a thoroughly thought ending of a written work;
quintessence, i.e. a brief list of the main ideas. You may refer to the introductory part and make parallels with the help of the same key words or images, but using other wordings. Do not repeat everything word by word;
support of ideas presented in the main part. Different types of papers require different kinds of conclusion. For example, small work does not require detail repetition of the major thoughts, meanwhile it may be necessary in a bigger one;
maybe, a question that leads to further thinking, a bright effective image, a quotation or anything else if it is appropriate;
as an option, prognosis of the results or consequences, possible solution or a call to action.
At the same time there are certain points that you need to avoid making conclusion:
present absolutely new ideas. In case they are really important, it is better to include them to the main part;
use justificatory tone. Be sure in your statements. Avoid phrases like "Maybe, I am not an expert" or "This is just my opinion";
pay to much attention to unnecessary details;
refute the significance of the previous arguments.
According to many experts, ending part is the most essential. In it you demonstrate that you know well the material and you have a thoughtful approach to the consideration of the problem. Do not worry if conclusion will make you rewrite the other text parts. In fact, this is a good sign.
You can use the following formula to define the size of your paper (this is just recommendation and not a strict rule):
introductory part takes about 7-8% of a work size;
conclusion should be up to 12-15%.
So, using our recommendation you can create good academic paper of high quality. However, no one is safe from mistakes. That is why we advise to use our professional online English proof reading service (http://essaycorrector.org/blog/editor-proofreader-professional-assistance). Our experts will help you to find and evaluate any kind of errors that can be made in a written work. We work with text of any difficulty level. Thousands of our customers have already entrusted us their papers and got great results. Become one of them. By the way, our clients get bonuses using services of Essay Corrector website. So stop hesitating and visit our online service right now!
Additionally you can read:
I Know Essay Corrector Will Reword My Paper Professionally
Thesis Revision Online Professional Service
Essay Corrector Will Revise The Paper At Reasonable Price
Thesis Rewriter Guarantees Paper Originality